Welcome to Perfectemp Refrigeration
---
"Report highlights potential for remanufacturing to reduce both costs and carbon, with refrigerated display cases selected as a key area for improvement."
- from racplus.com
---

Need to finance your next project? Apply today for special finance offers through Marlin Finance.

Additional information can be found by clicking the link below:
Marlin Financing Infographic
---
Fulfilling Your Needs
At Perfectemp, keeping things cool is what we do best.
We provide complete refrigeration equipment sales, installation, and maintenance services for convenience stores, supermarkets and grocery stores. Whether it's a local "mom and pop" store or a 100,000 square foot supermarket, Perfectemp is dedicated to delivering the best in refrigeration equipment and expert knowledge with years of experience. Our growing list of satisfied customers includes Redners Markets, Tops Markets, Karns Quality Foods, Save-a-Lot, AWG, C & S Wholesale Grocers and many more.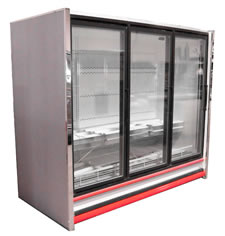 Thinking of purchasing a series of deli cases to keep your meats and cheeses as fresh as when they first arrived on your shelves? Or are you considering a set of reach-in door cases that lets customers see the full scope of your frozen food selection? No matter what you need, when it comes to keeping your merchandise cold and on display, we've got all the answers.
The Largest Remanufacturing Facility in North America
Nestled in the mountains of Auburn, Pennsylvania, our 136,000 square foot facility contains the largest variety of refrigerated retail equipment in the country.
With a total on-hand supply of over 2,000 units of retail cases and refrigeration equipment from every major manufacturer, our ability to meet your needs is unmatched. Additionally, we are always in the process of acquiring products to offer our customers, so don't forget to keep an eye out for new specials!
We're easy to find! We're located just minutes off of Route 61, north of Route 78 and south of Pottsville. We're almost 15 minutes north of Cabela's Retail Store in Hamburg, PA.
Our Legacy and Our Future
Perfectemp Refrigeration has been family owned and operated since 1987. We make our success personal - and our customers have benefited from that vision for decades.
From our humble beginning as a single technician in a service van in the late eighties, we have continuously improved to meet the needs of our customers over the years and have enjoyed exponential growth and success. Now, Perfectemp Refrigeration is not just an industry leader but an innovator in the field, setting the bar of expectation high and always finding new ways to serve our loyal and ever-growing customer base.
Some of our Satisfied Customers